At Cornflower Farms, we take a team approach to producing the highest quality plants available. Our top quality production is the result of a dedicated staff and management team, working side-by-side to improve product quality and production efficiency. When you need both quality and expertise, you can count on Cornflower Farms.

Aneta Mielech-Dow

Sales Associate
Aneta joined Cornflower Farms in 2018 as a production assistant with an enthusiasm for California native plants. Her hands-on experience in our nursery is the basis for her transition into the Sales Associate position. Aneta will happily answer your questions and assist you with your orders.

Elizabeth Ghormley

Personnel / Accounting
Liz developed her production expertise through hands on training in the nursery industry since 1978. She joined Cornflower Farms in 1985 as Production Manager. After 28 years of managing the nursery Liz has retired into a part time position keeping her sound wisdom here to tap into.
Ann Fisher Chandler

President
Ann has worked in the industry as a plant propagator since 1977 until she started Cornflower Farms in 1981. Ann has developed considerable expertise in the revegetation and restoration area both in-the-field and in nursery production. Ann obtained her BS in Ornamental Horticulture and Nursery Management from Washington State University.

Jeff Chandler

Vice President
Jeff is in charge of design, construction and operation of nursery facilities along with research and development. Jeff has a BS in Biology from Cal Poly Pomona and MS in Agricultural Engineering from Cornell University.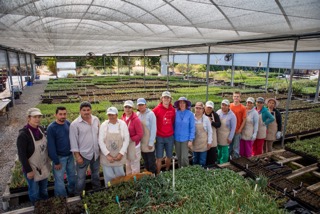 Our professional team ready to complete your order.